曹瑞和 助理教授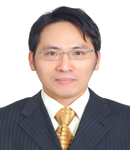 曹瑞和 助理教授
分機:7336
Mail:
rueiher@mail.lhu.edu.tw
rueiher@yahoo.co.uk
【專長】
數位拓撲(Digital Topology)
離散幾何(Discrete Geometry)
數學形態學(Mathematical Morphology)
電腦圖學(Computer Graphics)
影像處理(Image Processing)
無線感測網路(Wireless Sensor Network)
固定點理論及應用(Fixed and Almost Fixed Point Theory and Applications)
【學歷】
英國 倫敦帝國理工學院 計算機系 理論計算機科學 博士
Ph.D. in Theoretical Computer Science
Department of Computing, Imperial College London, UK
英國 倫敦帝國理工學院 計算機系 資訊科技 碩士
M.Sc. in Computer Science
Department of Computing, Imperial College London, UK
英國 劍橋大學 純綷數學和數理統計系 數學 碩士
M.A in Mathamatics
Department of Pure Mathematics and Mathematical Statistics, University of Cambridge, UK
國立交通大學 應用數學系 學士
【經歷】
龍華科技大學 資訊網路工程系 助理教授
Assistant Professor
Department of Computer Information and Network Engineering, Lunghwa University of Science and Technology, Taiwan
英國 倫敦帝國理工學院 計算機系 副研究員
Research Associate
Department of Computing, Imperial College London, UK
【研究興趣】
我之前的研究方向主要著重於拓撲(topological)與代數拓撲(algebraic topological) 理論於下列領域的應用:
組合數學和幾何:Borsuk-Ulam 類型和 Kakutani 類型定理的組合式應用;
理論計算機科學:開發與發展數位拓撲和離散幾何的新概念及其於圖像和空間推理的分析和應用。
目前,除了繼績之前的研究外,並將擴展至賽局理論(Game Theory)與網路設計的應用,也希望將我的研究擴及到其它數學分支與實際的電腦應用領域。
My primary research interests are in the topological and algebraic topological methods in the following fields:


COMBINATORICS & GEOMETRY: combinatorial applications of the Borsuk-Ulam type and Kakutani type theorems. Keywords: graphs and digraphs, partially ordered sets, simplicial and CW- complexes.




THEORETICAL COMPUTER SCIENCE: development of new concepts (and the mathematical foundations) of digital topology and discrete/computational/digital geometry and their applications to the analysis of the images and spatial reasoning. Keywords: digital topology, discrete and computational geometry, discrete spatial models, image analysis and processing.




I am also interested in all fields of mathematics as well as their applications in computer science.
【著作】
博士論文:
AStudy of Almost Fixed Point for Digital Spaces Ph.D. thesis, Imperial Cillege London, 2003.
碩士論文:
Iteration Functions Systems-Classical Analytic and Domain Theoreic Models M.Sc, thesis, Imperial College London, 1995.
期刊論文
M.B. Smyth, R. Tsaur, and I. Stewart. Topological Graph Dimension. Discrete Mathematics, 310:325–329, 2010. (SCI)
R. Tsaur. The Baillon-Simons Theorems. Discrete Mathematics, 293:251–261, 2005. (SCI)
M.B. Smyth and R. Tsaur. AFPP vs FPP: the link between almost fixed point properties of discrete structures and fixed point properties of spaces. Applied Categorical Structures, 11:95– 116, 2003. (SCI)
會議論文
R. Tsaur and M.B. Smyth. Convexity in Helly graphs: selectionand fixed point properties of multifunctions. Electronic Notesin Theoretical Computer Science, 161:151–163, 2006.R. Tsaur and M.B. Smyth. Fixed points in digital topology(via Helly posets). Electronic Notes in Theoretical ComputerScience, 74:207 - 223, 2003.
M.B. Smyth and R. Tsaur. Hyperconvex semi-metric spaces.Topology Proceeding, 26:791–810, 2001–2002.
R. Tsaur and M.B. Smyth. "Continuous" multifunctions indiscrete spaces with applications to fixed point theory. In G.Bertrand, A. Imiya, and R. Klette, editors, Digital and ImageGeometry: Advanced Lectures, volume 2243 of Lecture Notes in Computer Science,pages 75–88, 2001. (SCI)
M.B. Smyth and R. Tsaur. A digital version of the Kakutanifixed point theorem for convex-valued multifunctions. ElectronicNotes in Theoretical Computer Science, 40: 393 - 407, 2001